A Unique Look at the September 1933 Hurricane
Updated: September 1, 2023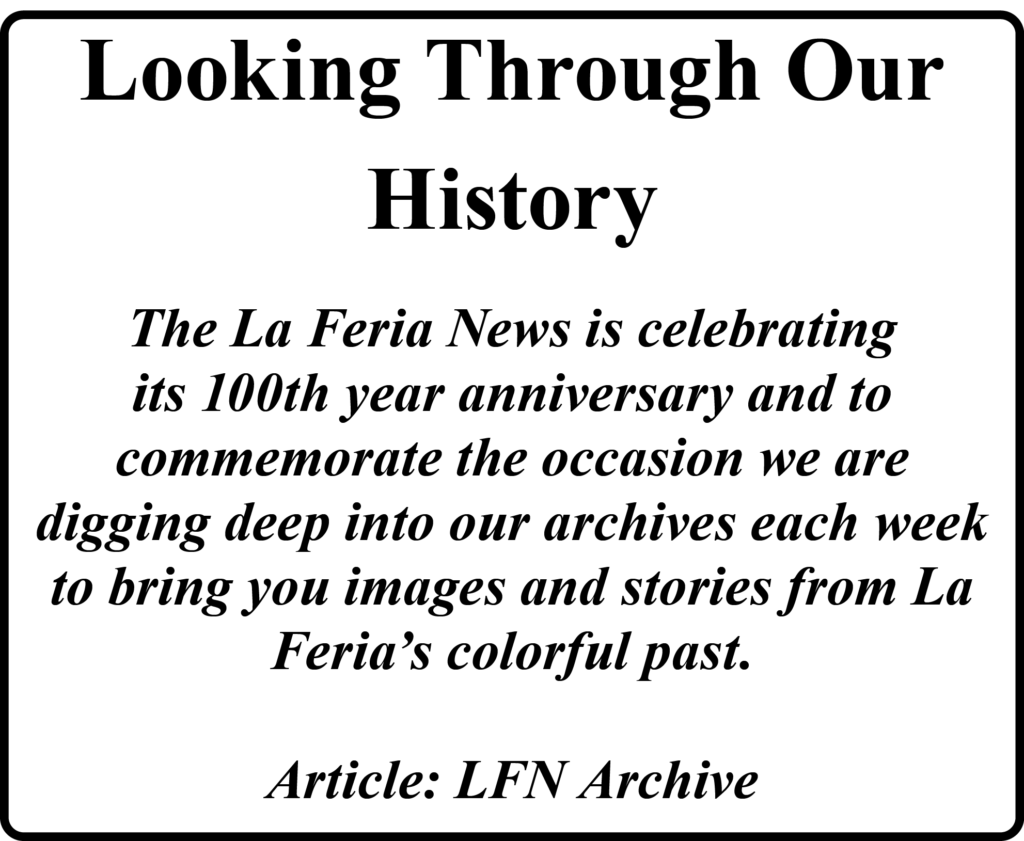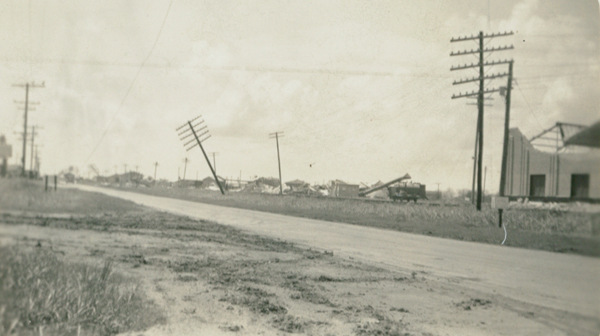 HURRICANE OF 1933 The center of a hurricane passed near Brownsville on September 4–5, 1933. The wind velocity was measured at 106 miles an hour before the anemometer blew away, and wind gusts were estimated at 125 miles an hour. Most of the citrus crop of the lower Rio Grande valley was ruined. Forty persons were killed and 500 were injured.
ARMY REPORTS 3 STORM DEAD; REFUGEES DESCRIBE TERROR
RELIEF TRAINS RUSH AID TO WIND SWEPT AREAS; PROPERTY LOSS MILLIONS
Report from San Antonio Light Texas – September 6, 1933
Refugees reaching San Antonio from the areas devestated by a tropical hurricane Wednesday and relief workers who penetrated the stricken Rio Grande Valley, gave information today of the scope of the disaster.
Millions of dollars worth of property and uncounted acres of citrus crops were definitely known to have been destroyed.
Brownsville, Harlingen and San Benito suffered most severely. In the first-named city nearly every building was reported damaged. Harlingen and San Benito buildings were leveled. All wires were down, although repair men were fast restoring communication. Hundreds were homeless. Scores huddled in public buildings.
A staff reporter of the San Antonio Light, reaching Harlingen, found three known dead, and 75 injured.
He was told that seven had been killed at Rio Hondo and several at Brownsville. The Associated Press has reported 32 killed and 1500 hurt in the three towns.
Fort Ringgold reported three persons dead and 35 injured at Harlingen.
Two relief trains from San Antonio, carrying food, clothing, drinking water and medical supplies, had reached Harlingen after an all night journey through the devastated regions. Aboard were doctors, nurses and public health workers.
Texas Rangers and highway patrolmen were on duty in the stricken area.
Martial law had not been declared, and Governor Ferguson, at Austin, declared it would not be necessary.
An army aviator landing at Corpus Christi after an aerial survey, said he had viewed the prostrate valley towns and that loss was tremendous.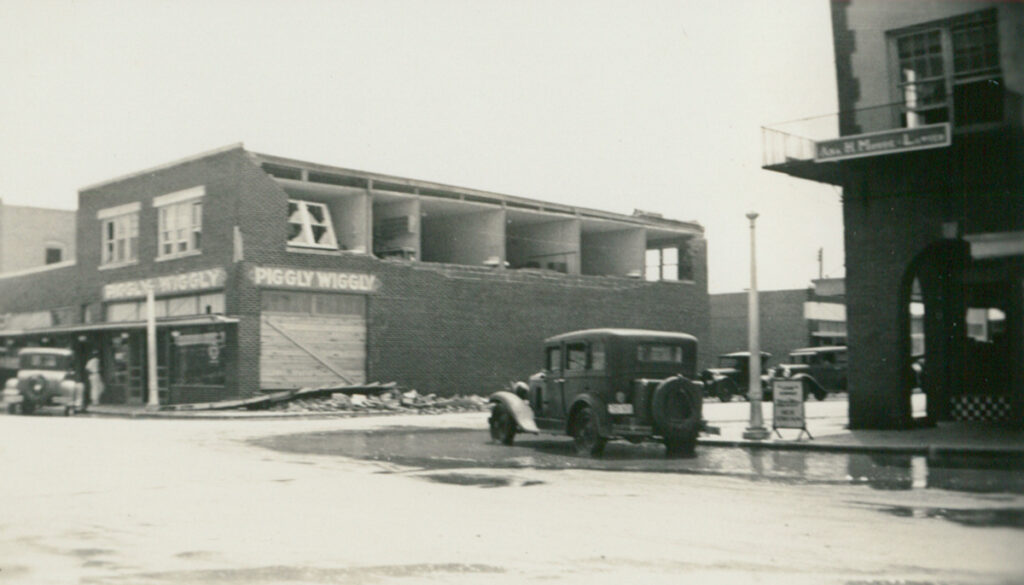 McAllen, Sept. 6. — The gigantic task of building back its damaged buildings and torn homes, laid waste by the terrific tropical hurricane which roared up the Rio Grande Monday night and Tuesday morning, got under way Wednesday as sunny skies appeared to mock the murky weather which dealt the Lower Rio Grande Valley the worst beating it has suffered in years.
Damage estimates by this correspondent were unchanged by a survey of conditions from Mission to Harlingen.
Authentic reports from San Benito and Brownsville indicate the total Valley losses will amount to a staggering figure — at least $15,000,000.
It is impossible to accurately check all losses.
Outside the cities of Brownsville, San Benito and Harlingen, it is probable there were no fatalities. A check at the cities of Mercedes, Westaco, Donna, San Juan, Alamo, Pharr, McAllen, Edinburg and Mission show no loss of life.
It is impossible to check completely on fatalities except by direct communication by automobile.
Law and order had been restored to the valley cities by a squadron of state highway patrolmen under inspectors Lee Miller and J. D. Moffatt from Austin and San Antonio. Patrolmen Tuesday night established patrols over all traffic moving east of Mercedes into Harlingen, San Benito and Brownsville.
In "upper" valley, the damage was fairly widespread. Heavily wired telephone poles are sagging to earth all along state highway No. 4, from Mission to Mercedes. Telegraph poles likewise are damaged and the main power line of the Central Power and Light company is broken in a dozen places between the two cities. The lines even are in a worse condition from Mercedes to Brownsville.
In Mercedes, two packing plants were demolished, two business buildings were damaged, orchards were flooded. Three packing sheds were destroyed, several business buildings were damaged at Weslaco. Nine packing plants were leveled, three business structures and school building were damaged at Donna.
The ice plant, Missouri Pacific railway station and two lumber yards at Donna also were damaged.
The packing plant, swimming pool at Val Verde, west of Donna, both were damaged. The lumber yard was damaged, two packing plants are down, several buildings were damaged at Alamo. Only one building was damaged at San Juan. Three packing plants were torn down at Pharr. One packing plant and one business building were completely destroyed at McAllen.
Conservative estimates said only one fourth of the $6,000,000 citrus crop which had just started moving to market would be left for harvest in the Valley. Almost all fruit was destroyed from Mercedes east to Brownsville, while about three-fourths of the crop was blown from the trees from Mercedes west to Mission. Fruit blown from the trees will be virtually worthless.
The number of injured in towns west of Mercedes is small.
Mayor John Ewing of McAllen, Wednesday morning received the following wire from Governor Miriam Ferguson:
"Several cars of food and water are leaving San Antonio tonight, also a car of army surgeons and equipment. Relief funds are made available now."
A survey through Hidalgo and Starr counties showed at least three oil derricks blown down in Hidalgo and every derrick in Starr on which check is available, has been blown down. The damage will amount to several thousand dollars in these derricks alone.
The valley spent the second night Tuesday night without lights, since the power lines are still down and workmen are unable to get an emergency line in from Falfurrias thus far. Efforts are being made to supply power to McAllen by Wednesday night.
Communications from the valley with upstate points was being restored rapidly today by telephone and telegraph but the gigantic job of connecting the valley cities themselves is still to be completed. Radio stations and amateur radios are powerless to communicate with the outside world, due to lack of transmission power.
Harlingen, Sept. 6. — Pitifully stripped of human lives, property and beauty, this city lay waste today as relief workers counted three known dead and 75 injured as the toll of the mighty gulf coastal hurricane exacted Monday night and Tuesday.
It was reported here that seven persons had been killed at Rio Hondo, seven miles west of here. Ambulances were rushed to this town.
Unconfirmed reports reaching here from Brownsville at noon said "several" persons were reported killed in that vicinity. No definite check had been made yet.
The American Red Cross, with Albert Evans of St. Louis, assistant national disaster relief director, at its head, had established relief stations throughout the town.
Harlingen will be headquarters for the entire stricken area, Evans said.
Ambulances sent to this town were still bringing in injured persons at noon Wednesday. Seventy-five San Antonio doctors and 100 nurses from the same city were working on the injured persons here.
Two dead were listed as: MRS. GILLIE F. HIGDON, 67, Harlingen. and JUDITH A. KUCERA, 40, Harlingen.
Although first reports to the outside world reported Harlingen a total wreck, it was definitely learned today that the condition is not that serious. Small frame buildings have been demolished but the larger buildings withstood the hurricane's attack.
Harlingen was described as the center of the stricken area the hurricane visited.
It has been estimated by persons arriving at Harlingen that the citrus fruit crop and building damage will amount to $10,000,000 in this vicinity.
Approximately 40 per cent of Harlingen's houses are now untenantable, it was estimated by L. P. Thompson, Harlingen banker. All the less substantial dwellings, of wood and adobe construction were seriously damaged.
Structures with tin roofs were torn down by the high winds.
The roofs of virtually all the smaller buildings in the town were whipped loose and tossed helter-skelter.
Long strings of freight cars on the Southern Pacific tracks between Edinburg and Harlingen were bowled over by the hurricane's fierce onslaught.
One brick warehouse at Santa Rosa was torn loose from its foundation and sent sprawling across the railroad tracks.
It was estimated damage to Harlingen's department stores and other business establishments would approximate $100,000.
Furnishings in all of the stores were heavily damaged by the high water, which rose to a four foot level in the business district.
Miles and miles of citrus groves in the fertile area about here lay in waste. Big, yellow grapefruit and oranges floated in the big pools of muddy water in the torn groves.
The citrus and feed crops were totally destroyed, a survey revealed.
Loss to citrus growers alone reached $4,000,000, Harlingen officials said.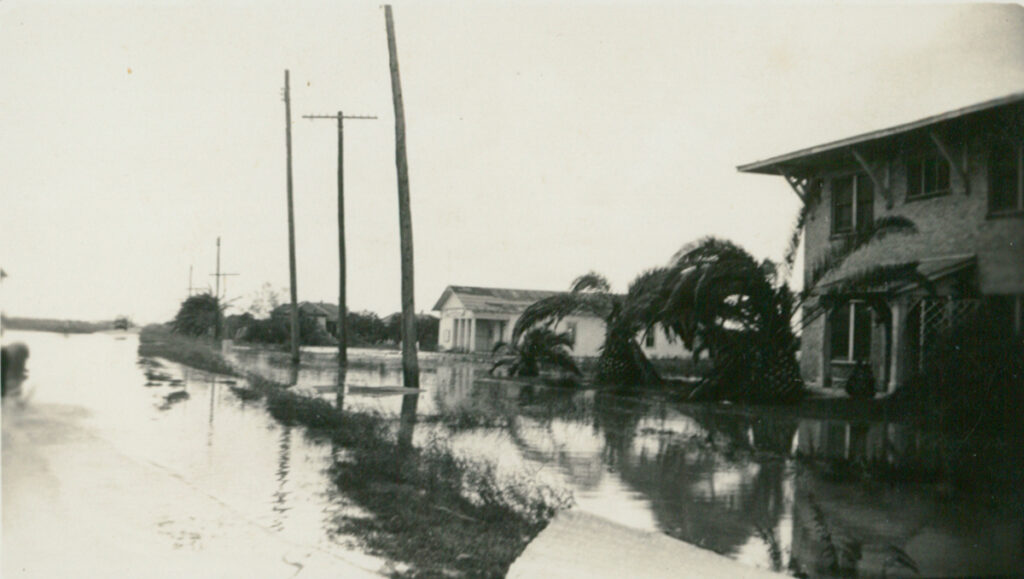 The Brownsville Herald estimated that the total loss to the valley would reach $10,000,000 and that the casualty list would reach 25 or 30 when a complete check is completed.
Isolation of the valley towns by high water and torn highways makes complete reports impossible at present.
Two feet of water stands in many valley towns. The skies dumped 10 inches of rain in the wake of the hurricane.
Residents in this vicinity reported the storm bore down on Brownsville at 9 p.m. Monday. A northeast hurricane raged for three hours and then suddenly abated.
A long calm followed and then the wind broke loose again. This time the terrific wind roared until noon Tuesday before a slack in the velocity was noticible.
Immediately after they had discharged medical attendants and supplies here, the relief trains from San Antonio and Houston moved on to other towns.
There were 135 physicians and 100 nurses on the two trains as they departed for other stricken points. The baggage cars were loaded with food, water and medical supplies.
Mayors C. K. Quin of San Antonio and Oscar Holcombe of Houston accompanied the relief train.
The Valley citrus crop, scheduled to be gathered this week, lay on the ground today. Trees were stripped of all fruit and foliage. Water stood a foot deep around the orchards.
Although several downtown business houses in this city had been boarded up for the impending storm, the gale tore through the protective measures and damaged stocks.
Several rooms in the Brownsville Junior High school were reported to have been demolished.
The entire top floor of the Delta hotel at Brownsville was blown off.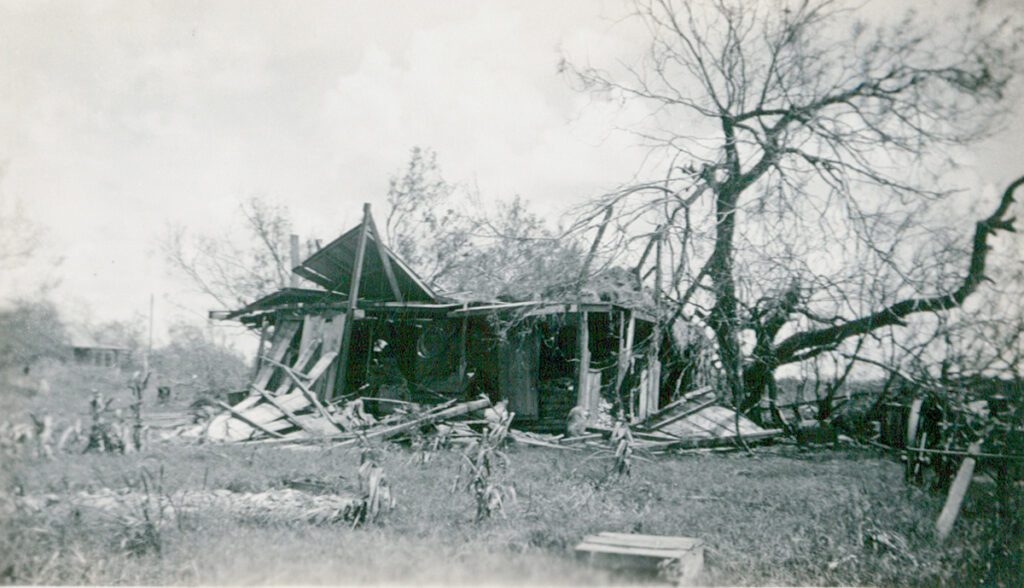 RED CROSS GIVES OFFICIAL LIST OF DEAD AND INJURED IN TROPIC STORM
Report from Galveson Daily News Texas – September 7, 1933
San Antonio, Tex., Sept. 6. — (AP) — Following is the official Red Cross list of dead in the tropical storm which struck South Texas Monday and Tuesday:
Dead: BILL DUNCAN, Harlingen. Two unidentified Americans of Harlingen. MRS. JOHN KUSCERA, 30, Rio Hondo. R. D. DYKES, 20, Rio Hondo. MARIE ATKINSON, 6, Rio Hondo. ANTONIO GARCIA, 7, Rio Hondo. A child named KENNEDY, 7, Rio Hondo.
Four unidentified Mexicans, Rio Hondo. GLEN MAXON, 28, Los Fresnos. OLIVIA GONZALES, 19 months, San Benito. CRUS RODRIGUEZ, 50, San Benito. MRS. TILLIE HIGDON, 67, near Harligen. PATRICIO GARCIA, Matamoros. MARIE CHONG, Matamoros. MANUEL GARCIA, Matamoros.
ROSENDO FERNANDEZ, Matamoros. (The names of dead in Matamoros were turned in by Maj. Primitivo Shears who reported that search for dead and wounded had just started.)
The injured: Among those treated at emergency hospital set up at Harlingen were: MARK STEPHENS; a MR. STEWART; L. B. MARTIN; MRS. E. LaSOWELL; MRS. BERTIE GRIMES; MRS. MANUEL A. GARCIA; MRS. J. N. PATTON; MRS. A. W. COCKE; E. M. CROCKETT; WAYNE SAWYER; MRS. MARGARET CISNEROS; PINTO CISNEROS; V. C. JACOBSON; LAWRENCE BUSH; MRS. ALICE COMIEA; BOB HOLLAND; MRS. J. C. WHITE; BILL GEMILLE; BETTY SHERMAN; MR. and MRS. GUTTIEREZ and baby; H. CALLOWAY; BILL KENNEDY; JOHN CAMPBELL; Baby HELEN HURLEY; MRS. K. R. WILLIAMSON; MRS. A. T. BUTLER; MRS. PATRICK STATTS; GILBERT CERVANTES; MR. and MRS. OLGA WARNASOB; IONA MAE HOTTAL; LAURA HOTTAL; B. H. CURLEY; EDNA HOTTAL; BONNIE KENNEDY; MRS. A. L. HOLLBORN; Misses LENA and HILDA POTYA; AUGISTINEA BOTELLA; MISS ESTEFANA BOTELLA; MRS. ERLINDA FAMES; E. W. HOWELL; JUAN GARCIA; C. F. CARDEN; ALONZO COVINGTON; MRS. HENRY NEELEY; MISS ALEDA THOMAS; a MR. GARZA; MR. and MRS. F. V. DAVIS; W. H. SAPP; W. A. HECKMAN; LIZZIE BELL MOORE; F. C. GARLING; LEON JACKSON; MARIE SAPP; D. W. DONAHUE; MRS. E. E. HEINRICH; MARK E. VANS; H. K. WEBB; MRS. CLARA GRANT; MRS. C. W. HOWELL; ROY COOK; JOE PENN; JOE GARZA; G. T. OLIVER; ROY D. STANFIELD; M. C. JACKS; W. S. HOEMAKER; FRANCH SMITH; ERNESTINA CORTEZ.