El Grito Menudo Cookoff 956 Contest
Updated: September 14, 2023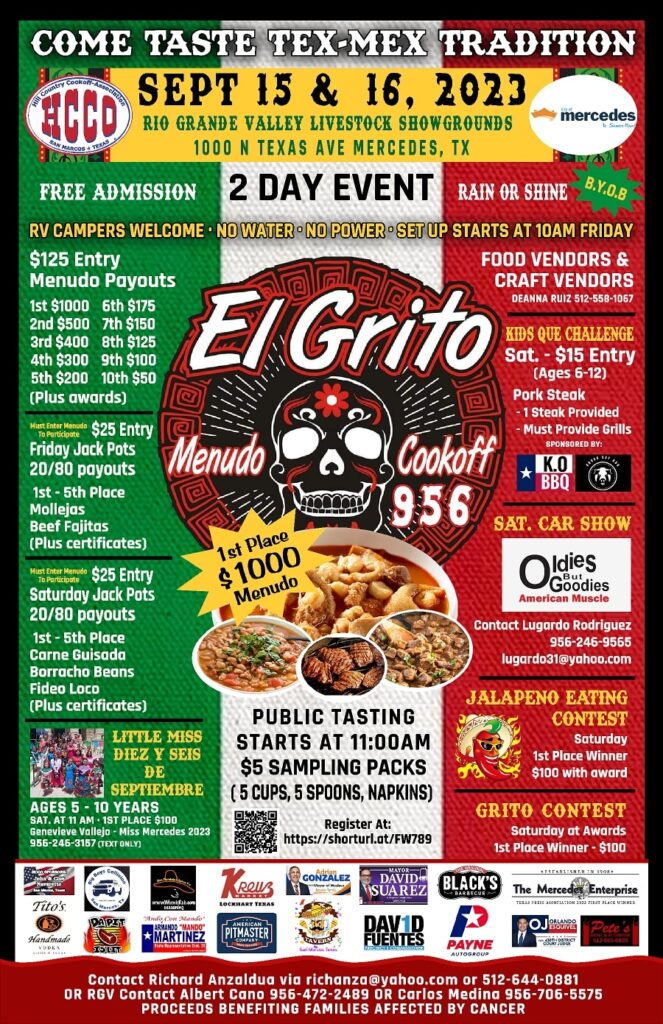 LFN Staff
The long-time event, El Grito Menudo Cookoff, is happening in the Valley on September 15 & 16. This year's event promoter Richard Anzaldua decided to bring the event to the Rio Grande Valley to see who has the best of the best. So get your spoons ready to taste some of the best menudo in none other than the Valley, where menudo is a staple in our area.

Public tastings will start at 11:00 a.m. with $5 sampling packs which include 5 cups, 5 spoons, and napkins. The menudo entry winners will start off with the first-place payout of $1,000 and all the way to 10th place with a $50 payout. But wait, menudo won't be the only thing on the menu. Participants will also be able to enter 1st to 5th place payouts in Mollejas, beef fajitas, carne guisada, borracho beans and fideo loco.
There will also be a kids ages 6-12 entry of pork steak. So come with an appetite since there will also be local food vendors at the event. There will also be a Little Miss Diez Y Seis De Septiembre contest with a first-place $100 prize. If you're brave enough, there will also be a jalapeno eating contest and a grito contest with a $100 payout each. There will also be local vendors selling arts and crafts on both days and a classic car show on Saturday.

The event will take place at the Rio Grande Valley Livestock Show Grounds in Mercedes. The entire event will be under a covered pavilion. There will be free parking and free admission to the event. All proceeds from the event will benefit families affected by cancer (a project of the Hill Country Cook-Off Association Helping Families Dealing with Cancer). More information is on the flyer. Photos from El Grito Menudo Cookoff Facebook Page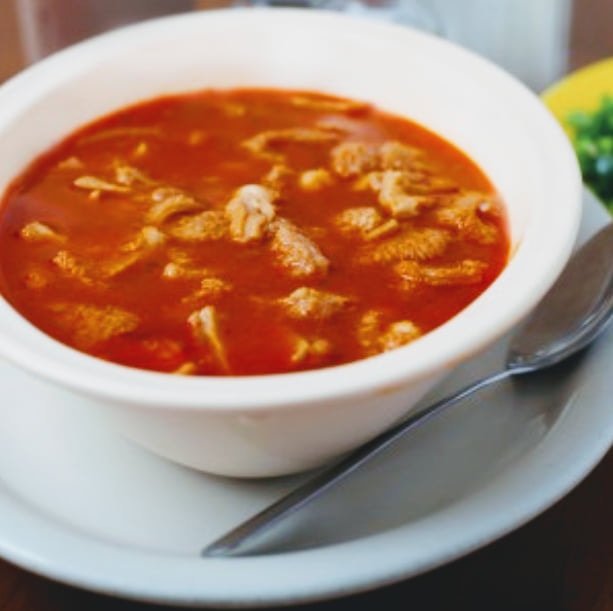 El evento de larga data, El Grito Menudo Cookoff, se llevará a cabo en el Valle los días 15 y 16 de septiembre. El promotor del evento de este año, Richard Anzaldua, decidió llevar el evento al Valle del Río Grande para ver quién tiene lo mejor de lo mejor. Así que preparen sus cucharas para probar el mejor menudo del Valle, donde el menudo es un alimento básico en nuestra área.

Las degustaciones públicas comenzarán a las 11:00 a. m. con paquetes de muestra de $5 que incluyen 5 tazas, 5 cucharas y servilletas. Los ganadores de las entradas del menudo comenzarán con el pago del primer lugar de $1,000 y llegarán al décimo lugar con un pago de $50. Pero espera, el menudo no será lo único en el menú. Los participantes también podrán ingresar pagos del 1er al 5to lugar en Mollejas, fajitas de carne, carne guisada, frijoles borrachos y fideo loco. También habrá una entrada de filete de cerdo para niños de 6 a 12 años. Así que venga con apetito ya que también habrá vendedores de comida locales en el evento. También habrá un concurso Little Miss Diez Y Seis De Septiembre con un premio de $100 para el primer lugar. Si eres lo suficientemente valiente, también habrá un concurso de comer jalapeños y un concurso de gritos con un pago de $100 cada uno. También habrá vendedores locales que venderán artesanías ambos días y una exhibición de autos clásicos el sábado.

El evento se llevará a cabo en el Rio Grande Valley Livestock Show Grounds en Mercedes. Todo el evento se realizará bajo un pabellón cubierto. Habrá estacionamiento gratuito y entrada gratuita al evento. Todas las ganancias del evento beneficiarán a las familias afectadas por el cáncer (un proyecto de la Hill Country Cook-Off Association Helping Families Dealing with Cancer). Más información está en el folleto. Fotos de la página de Facebook de El Grito Menudo Cookoff