Welcome Congressman Filemon Vela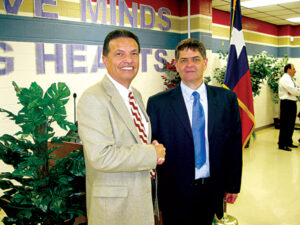 La Feria school administrators and city officials made their welcome for Congressman Filemon Vela at the Lee Staff Development Center a memorable event last week.
The Valley Congressman and invited V.I.P. guests were welcomed to the well-attended ceremony by a dazzling performance by the award-winning La Feria High School Jazz Band.
After the show, Interim Superintendent Robert Rivera presided as Master of Ceremonies for this major civic event which was organized to honor Congressman Vela.
Rivera said it makes him proud to know how well the School District and the City of La Feria work together. "I'm always proud to tell people that I'm with the La Feria Independent School District wherever I go," he said.
After recognizing prominent individuals in the audience, Rivera introduced School Board Chairman Juan Briones who made a gift from the District.
The honorable Filemon Vela next presented the keynote address for the occasion. The Congressman told the crowd that he had looked forward to visiting La Fera again even though he lives in Washington, D.C., "My home and heart will always be in the Valley," he said.
"I believe in overcoming obstacles," he stressed. "I'll be there to help students to get entrance to universities and military academies. I see my role on behalf of my Valley constituents as a helper to find funding for Federal Programs. To that end, my office is always open."
The final feature of the Congressman's visit was the presentation of a glass-encased flag that had flown over the United States Capitol in Washington, D.C. It was accepted for the school by Danielle de la Rosa, High School Student Council Vice President.
The congressman and invited guests concluded the event with a social mixer and refreshments.
[GALLERY=1]