Inpatient Rehab Unit Benefits Valley Patients
Updated: December 18, 2015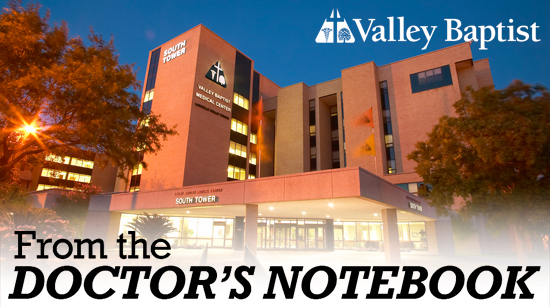 HARLINGEN – An Inpatient Rehabilitation Unit at Valley Baptist Medical Center in Harlingen is focusing on intensive therapy and restorative care for Valley patients, with the goal being to increase patients' level of functioning before they return home.
Care of patients in the Valley Baptist Inpatient Rehabilitation Unit is coordinated by a physiatrist, a physician who specializes in rehabilitation and physical medicine, with the physiatrist coordinating care with the patient's personal physician, who may continue to follow the patient's progress. Dr. Rachel Martin, DO, Physiatrist, serves as Medical Director of the Valley Baptist Inpatient Rehab Unit.
Physicians are assisted by specially-trained rehabilitation nurses who provide patients with around-the-clock personal care and support.
Other key members of the rehab team include physical therapists, who evaluate and educate patients on improving their mobility through the use of assistive devices such as a walker, cane, or wheelchair. Physical therapists also work with the patient on improving their overall strength, balance, and endurance through therapeutic exercises.
In addition, occupational therapists are available to evaluate and assist patients with maximizing their independence with self-care skills such as eating, dressing, and bathing, as well as basic home management skills so patients are prepared to return home safely. Occupational therapists also address limitations patients may have with overall arm and hand strength, coordination, and endurance.
For patients needing evaluation and treatment for their ability to communicate, problem solve, and reason, speech therapists are available at the Valley Baptist Rehab Unit. Speech therapists also help address problems patients may have with swallowing.
For more information on rehabilitation services, please consult your physician; call (956) 389-1550 and visit www.ValleyBaptist.net/medical-services/rehabilitation.