Texas Folklife cancelling upcoming live events and gallery operations until further notice, continuing online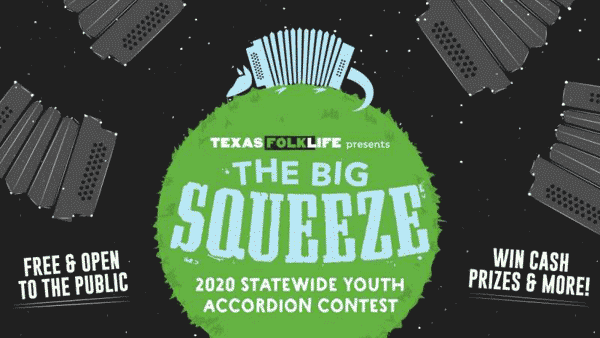 The Big Squeeze contest will continue in online format with video entries and virtual judging
AUSTIN – In adherence to CDC and local health authority guidelines, and to ensure the health and wellbeing of the statewide community, Texas Folklife is canceling all scheduled live events, performances and gallery operations until further notice. This includes all remaining 2020 Big Squeeze live auditions and concerts throughout the state and the finals competition at the Bullock Texas State History Museum.
However, the Big Squeeze and other Texas Folklife programs will continue in virtual formats. The Big Squeeze youth accordion contest will accept video entries for any contestants who did not already try out at a live audition and/or live more than 20 miles from an audition that was not canceled. The video entry deadline has been extended to April 5, 2020. As usual, all contestants' auditions will be judged online via private video links. The semi-finals and finals will now also be judged online and announced in April and May respectively. Big Squeeze audition and competition information can be found at texasfolklife.org/article/big-squeeze-2020.
"We have another talented group of contestants from around the state this year and look forward to others via video entries. We encourage everyone to keep playing music and sharing traditions in the next couple of months," says Sarah Rucker, Program Director for the Big Squeeze.
Additionally, the Texas Folklife physical office is now closed and the team will be working remotely until further notice. Staff will be available by email and will be responding to office phone calls and voicemail.
Since 1984, Texas Folklife has worked with diverse communities across the Lone Star State to highlight and celebrate the shared traditions that inextricably unite us as Texans and as people. Much of this work revolves around communal programming and in-person activities. As communities across the world restrict public gatherings to protect our collective wellbeing, Texas Folklife remains committed to carrying on its mission of bringing people together through folk and traditional arts. Although Texas Folklife's live event calendar is paused, the organization is actively exploring alternative programming strategies aimed to keep audiences, artists and supporters connected in the days and weeks ahead.
People interested in supporting Texas Folklife and its mission are encouraged to donate or become a member. More information can be found at texasfolklife.org.