True Olympic Legend from RGV
San Benito's Bobby Morrow: World's Fastest Human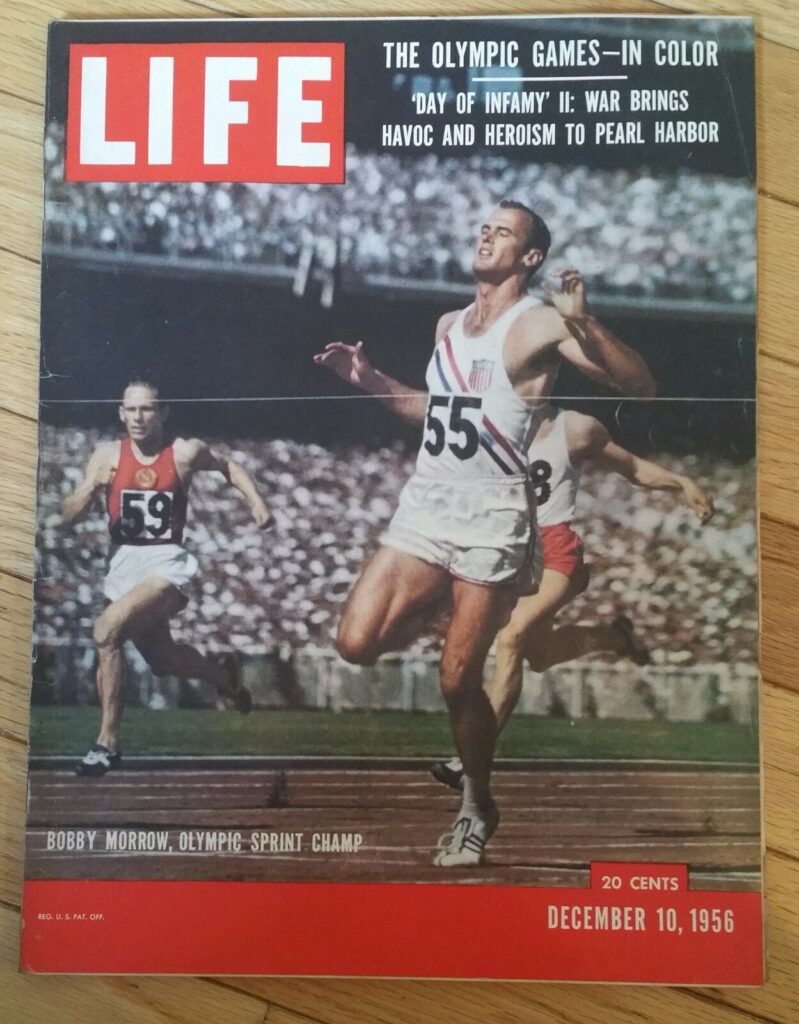 Special to LFN
Jesse Owens. Bobby Morrow. Carl Lewis. Usain Bolt. That's the Mount Rushmore of Olympic sprinters. Three our still household names, but Bobby Morrow teeters on anonymity. Even in his home of the RGV and among sports fans. As the summer Olympics are underway, Let's remember the RGV athlete that captured the world in 1956.
Morrow grew up on a cotton and carrot farm outside of San Benito, TX. He played football for the San Benito Greyhounds, but his true prowess was on the sprint track. Morrow only won 2 early season races during his sophomore year. He did well at local meets and qualified for the state meet in both the 100y and 220y distances but did not place at the state meet in either (Track and Field News). Those performances certainly showed a promising high school star that might be looking at a scholarship. But no one would have expected this boy would one day be the fastest human on the planet.
In his 11th grade season, Morrow took Texas track by storm with 18 first place finishes in the 100y and 220y included 1st place in 100y and 3rd in 220y at the State Meet in 1953 (Track and Field News). Now everyone could see this kid growing up catching wild rabbits by hand in South Texas was a legitimate sprinting star (Texas Monthly). His senior year featured 17 races and he came first in all of them.
Offers came in from power track and field universities. But the San Benito Bullet chose Abilene Christian College for the next phase of this life. Most articles reference Morrow's desire to stay in Texas or strong commitment to the Church of Christ being the only two motivations for choosing ACC. While those were very important to Morrow, everyone should know that ACC was a very strong track program at the time. Small yes, but fast. ACC track and field coach, Oliver Jackson, was young and had gone from being an ACC football star and directly into coaching at the same school. Before Morrow came to ACC, Jackson had coached runners to national colligate titles in 1952 and 1954.
In college, from 1954 to 1958, Morrow competed in 88 individual races and placed first in 80 of those. During those years he racked up 14 individual national titles and set or matched 8 world records (Track and Field News).
A Sports Illustrated article before the 1956 Summer Olympics records this about Morrow and the opinion of his college coach: "Despite his (Morrow's) physical education major, he plans to farm rather than coach upon graduation. He believes now, despite his love of running, that he will never compete again once out of college.
ACC Coach Oliver Jackson, however, says that if Morrow is drafted for two years in 1958 he almost certainly will continue to run in service competition and be ready for the 1960 Olympics as well. Jackson also believes that if this happens Morrow will become the greatest sprinter the world has ever seen. "He loves to work, and once his starting faults were corrected there wasn't much else I could do—except sit back and enjoy myself." Both coach and runner believe Morrow's best race is the 220 and one day soon he should run it well under 20 seconds flat. "We really have no idea," says Jackson, "how fast that boy can actually run."
1956 proved to be the golden year for Bobby Morrow. His dominance at collegiate races proved he was the favorite to win the Summer Olympic sprints. And he would anchor the US Men's 4×100 relay team. Morrow pulled through and earned gold medals in all three events. It was the first time since Jesse Owens in 1936, that an Olympian earned three gold medals in a single Olympics. Jesse earned 4 in 1936: 100m, 200m, 4x100m, and the long jump. Jesse Owens was on hand to see Morrows races. Morrow set world record times in the 200m and the 4x100m. Only 4 men have ever won Olympic gold medals in the 100m, 200m, and 4×100: Jesse Owens, Bobby Morrow, Carl Lewis, and Usain Bolt.
The Olympics were so much more than athletic achievement then. WWII had only ended 10 years earlier. The Korean war was barely cool. The Cold War was heating up. Vietnam was on the horizon. Germany was divided and Russia was collecting eastern Europe and the Middle East. Those races, victories, and medal counts meant a lot to the people back home.
So fame came fast for Morrow. He worked hard to do right by it, but he always remained humble. Sports Illustrated named him Sportsman of the year over some really great athletic achievements. Mickey Mantle had just won the triple crown. Dan Larson, another New York Yankee, had just pitched a perfect game in the World Series. Floyd Patterson had just become the youngest heavyweight boxing champion.
Even the United States Chamber of Commerce named Bobby Morrow one of the 9 greatest living Americans.
When he returned home to San Benito, a BBQ reception and parade were held in his honor. An estimated 1500 people were in attendance. The San Benito High School Gymnasium was renamed in his honor.
Bobby knew he was an inspiration. He kept his amateur status for the next four years. This meant no endorsement money, speaking fees, or free trips. Anything given to him had to be donated which he did usually to ACC. Now out of college, he had to support his family and try to train for the 1960 Olympics all on his own dime.
Injuries and circumstances prevented him from going to Italy to the Olympics by the very thinnest of margins.
To read more about Mr Morrow, read The Fastest Nice Christian Boy in the World in the August 1984 issue of Texas Monthly.
The Morrow name is front and center in San Benito High School Athletics. After the 2006 refurbishing of the football stadium, it was named in his honor.
Bobby Morrow died May 30, 2020, at home. He was laid to rest at the Restlawn Memorial Park in La Feria, TX.
Bobby means a lot to San Benito, the RGV, Track and Field, the USA, and the Olympics. One final quote that sums his sportsmanship from San Benito track coach Jake Watson, "No dishonor has ever been connected with his name, and never will." What better legacy is there?