Movin' on up!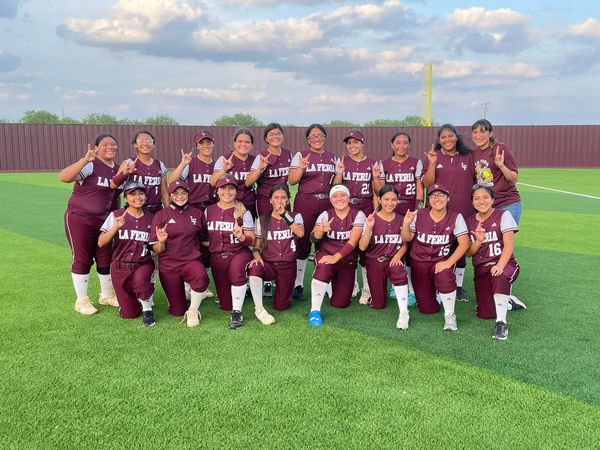 By Ruben Rodriguez
La Feria News
The La Feria Lionettes faced off against District 31-4A's 4th seed Zapata Lady Hawks in the Bi-District Round. After a stellar regular season that saw the Lionettes become the undefeated 32-4A District Champions, The Lionettes looked to continue the momentum in the postseason.
Game one saw La Feria and Zapata clash in a close knit matchup. The Lionettes started the Action with four runs in the first two innings. Leading 4-0 thanks to a superb defense that rendered Zapata scoreless until the 5th inning where the Lady Hawks picked up their first run of the ball game. In the sixth, Zapata responded with three runs to tie the game up at 4-4. With two great teams, 7 innings of high intensity softball was not enough as Game 1 went to nine innings where the Lionettes won on a walkoff two-RBI Double by Railee Carvajal.

Game two bright and early in Zapata. The pace of the game was much different as Zapata struck first, scoring six runs in the first two innings. La Feria scored their first run in the fourth, but Zapata quickly responded with four more runs to make it a 10-1 ball game. La Feria rallied in the top of the sixth but Zapata would hold off La Feria to take game two 10-5.

Game three now saw both teams on the ropes, and another potential shootout similar to game one was in the making. Zapata scored in the opening inning, while La Feria quickly responded to take a one run lead 2-1. Zapata then took the lead of a two run top of the third inning and held La Feria Scoreless for the next two innings. The Lionettes then scored three runs in the bottom of the fifth inning. With the score now 5-3, Zapata answered back to tie the game up at 5-5. La Feria refused to go down without a fight as they took a one run lead 6-5 heading into the seventh inning.

Zapata, determined to keep their season alive, scored the tying run in the top of the seventh inning. La Feria, then proved why they are the defending 32-4A District Champions, dug deep in the bottom of the 7th inning. Then on a 1-0 count in the bottom of the 7th, Hayaris Jimenez delivered a two-run home run to walk off and send La Feria to the Area Round. The Lionettes will face off against 29-4A's Hondo Lady Owls.