Obituary: Thomas Van Kolterman
Updated: February 18, 2022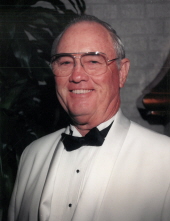 Former La Feria City Manager and Banker Passes Away
Thomas Van Kolterman, age 86, passed away on February 13, 2022, in San Antonio, Texas. Tom was a man of God. He was a member of the First Baptist Church of San Antonio and a Christian and loved God, Family and Country.

He was born on October 9, 1935 in Sebastian, Texas. He was raised in and graduated from high school in Lyford, Texas in May 1954. Tom graduated from Texas A&M University with a BA degree in Economics in 1958. Soon after, he entered into active duty at Lackland AFB as a Commissioned second lieutenant officer in the Air Force in September of 1958, and by November he had completed USAF Air Traffic Control School.

In February of 1959, he married Martha Nell Henderson of Garland, Texas. Tom refers to this as his "most brilliant move" which is evident by their marriage of nearly 63 years!

While serving in the United States Air Force, he completed the USAF Squadron Officer School, Command & Staff, Air War College and finished his Masters Degree in Public Administration at the University of St. Louis. Tom proudly served his country for 21 years, being stationed in Little Rock, Arkansas, Keflavik, Iceland, Altus, Oklahoma, Pacific and SE Asia air operations-Hawaii; the Pentagon; Randolph AFB, Texas, Clark AB, Phillippines, and Commander of Communications and Air Traffic Control Services Squadron at Sheppard AFB, Texas.

Tom retired from active duty in 1980 with the rank of Lt. Col.. Retirement didn't last too long…soon after he worked as the City Manager for the City of La Feria, Texas (1983-1996), and then in banking for First National Bank of La Feria (1996-1999). Tom fully retired in 2000 in San Antonio, Texas to take time to play golf and visit with family and friends. He was most proud of his two daughters and three highly intelligent grandchildren!

Besides his military service, Tom was the most proud of his family. He was the eldest of three children and had to show his younger siblings the ropes. Living on a working farm taught Tom much about grit and determination, as witnessed in his lifelong accomplishments. One of his proudest triumphs is the fact that all three of his grandchildren graduated from Texas A&M University. Tom was an Aggie to the core. He bled Maroon. He watched every Aggie athletic event from football to baseball and anything where the Aggies were playing. Every vehicle he purchased had to be maroon.

He was preceded in death by his parents, Harry & Grace Kolterman; brother, Richard Kolterman and wife Sally Kolterman; and sister, Nancy Jones and husband Bill Jones. Tom is survived by the love of his life-his beloved wife, Martha Nell Kolterman; daughter, Karen Winkle & husband Jim; daughter, Kimberly Scamardo & husband Pete; grandchildren, Thomas Scamardo & wife Lindsey, J.J. Winkle, and Kate Scamardo; sister-in-law, Wenda Kolterman; and niece, Darla Jones.
FUNERAL SERVICE
THURSDAY, FEBRUARY 24, 2022
11:00 AM
FIRST BAPTIST CHURCH SAN ANTONIO
WILSON CHAPEL
(PLEASE USE ORANGE OR YELLOW PARKING LOTS ONLY)
GRAVESIDE SERVICE
THURSDAY, MARCH 10, 2022
11:15 AM
FORT SAM HOUSTON NATIONAL CEMETERY